Books 著作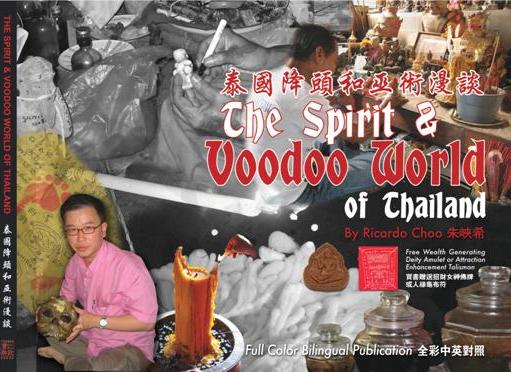 The Spirit & Voodoo World of Thailand 泰国降头和巫术漫谈
My book on thai voodoo and spiritualism was first published in 2011. The contents in this book are derived mainly from three consecutive years of seminars entitled "Understand Thai Voodoo" that were organised by the Society of Paranormal Investigators, Singapore.
Over these few years, such topics have appeared in a lot of magazines but a number of them just gave a brief introduction to these contents. I do not claim that this book is extremely detailed but the contents are written to the best of my knowledge and explained in ways as logical as possible. Most of the information were what I heard from or seen personally from the spiritual masters during my frequent travel to Thailand over the years.
Inside this 130 pages full-coloured bi-lingual (English and Traditional Chinese) book, you can find the following contents:
- Cat Foetus Corpse
- "Subsitute Body" Hoon Pa Yong
- Consecrated Water from Temple "Nam Mo"
- Enhancement of Luck Ritual: Reborn
- Ghost from Violent Death "Pi Dai Hong"
- Corpse Oil
- Another Variation of "Corpse Oil" in Malaysia and Singapore
- Coffin Nail "Tak Phoo"
- Golden Tongue Bird (Salika) Ritual
- Attraction Cream "See Png"
- Voices from Hexed Victims
- Nang Prey - The Naked Wealth Generating Lady Deity
- Golden Needles for Personal Protection
- Sacred Wood, Spiritual Plants
- The Legend of Archan Font Dee Sawan
- The 'Bia Gae' Seashell
- Mit Mor Spiritual Knife
- Thai Consecrated Objects to Enhance 'Peach Blossom'
The book is available at major bookstores in Thailand, Hong Kong and Taiwan.
Sales location in Singapore: 5001 Beach Road #03-98F Golden Mile Complex
此书为笔者2011年的第一本著作。内容为笔者三年内为新加坡超自然侦查协会(SPI)举办的一系列有关泰国巫术讲座内的一部分题材。虽然近年来某些有关题材曾于一些杂志上探讨,笔者不敢自认为此著作会给予全方面的讲解,但此书的内容都为笔者亲身的见证或从各位法师口中得到的信息。笔者尽所能将这些题材详细讲解和从逻辑角度中做探讨。
书为彩色双语版(英语和繁体中文),全131页讨论的题材包括:
-
胎鬼仔

- 另类替身 "魂柏拥"

- 寺庙圣水"喃莫"

- 起死回生改运大法

- 冤死鬼"皮台红"

- 尸油

- 新马另类尸油

- 棺材钉"达卜"

- 金舌鸟降(沙力卡)

- 人缘糕"西碰"

- 中降者的心声

- 寮国裸体招财女神《南悲》

- 另类护身法:金针注入体

- 圣木,灵树

- 一代传奇行者--阿占峰

- 挡降避鬼的贝壳

- '灭魔'法刀

- 泰国圣物催桃花
泰国各大英语书店,香港心一堂,鼎大书局,台湾進源书局,星桥网络书店及其它各大书局皆有出售
新加坡零售处: 新加坡美芝路黄金坊三楼#03-98F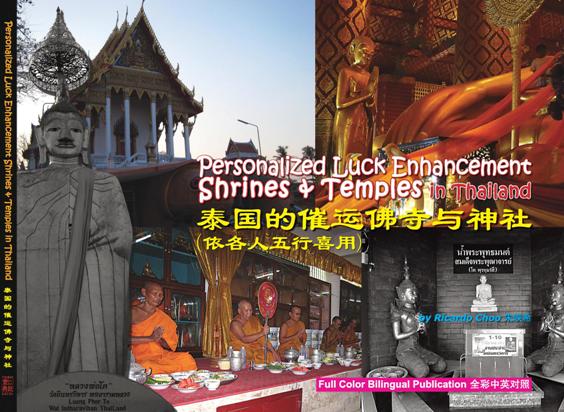 Personalized Luck Enhancement Shrines & Temples in Thailand
泰国的催运佛寺与神社 (依各人五行喜用)
Many people had asked themselves this question before, 'why my prayers did not come true even though I prayed at that popular temple or shrine that others recommended and most had their wishes come true?' Well, according to Chinese Element theory, all objects can be classified into Yin and Yang and the five basic elements (Wood, Fire, Earth, Metal, Water).
This book will guide you to the temples/shrines in Thailand according to your element suitability (based on your birth details) so that you can have your prayers answered or wishes come true at the soonest. Full color bilingual publication.
The book is available at major bookstores in Thailand and Singapore.
Other retail location: 5001 Beach Road #03-98F Golden Mile Complex
许多人可能曾经那么问过自己,"为什么到了那么著名和那么多人推荐的寺庙或神社参拜祈求,仍然无法使到自己的愿望实现?" 依中华五行原理,万物皆可归化为阴阳和分类为五行(木,火,土,金,水)。
此著作为您介绍依您各人五行喜用的泰国寺庙和神社让您的愿望能够早日达成,有求必应。全彩色双语(英文与简体中文)著作。
泰国,新加坡各大语书店皆有出售。
其它零售处: 新加坡美芝路黄金坊三楼#03-98F
Articles 文章专访
Interview by Pakayjit Magazine on Collection on Luang Po Pao Amulets 泰国佛牌杂志专访笔者有关龙波包圣物收藏及金舌法事
Interview by Singapore New Paper on Insertion of Golden Needles 新加坡报章封面报道有关笔者金针入体法事