My Monkhood 我的短期出家
Just like many Thai men, I had chosen to go for short-term ordination in 2009 under the guidance of master Venerable Luang Po Num in Wat Bang Waet, Bangkok. Here are some of the pics on this joyous event.
向大多泰国男生一样,笔者于2009年选择了短期出家,随从于曼谷瓦邦为佛寺的龙波浓。以下为一些当日出家时的照片,供大家共沾法喜。
The preparation: Temple helpers purchased rice noddles and other food ingredients for guests on that day. The temple surroundings were cleaned up a day before.
筹备:寺庙的义工购买了米粉和其它配料以准备食物给当天来参加庆典的善信。寺庙的周围也于一天前进行打理和清洗。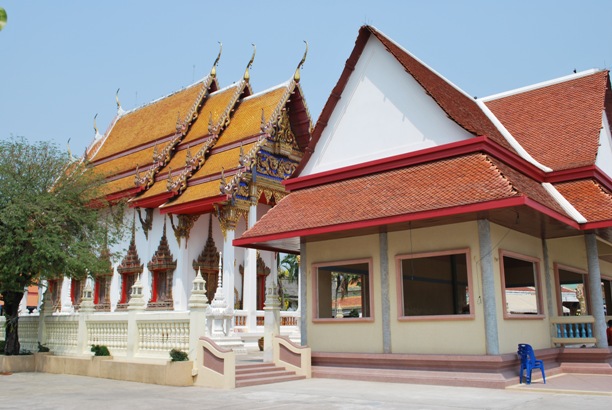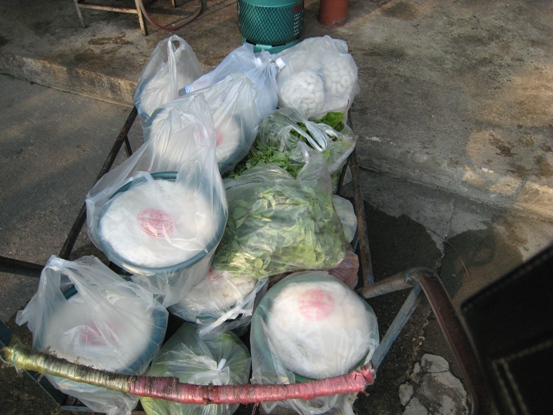 Thanks to my sponsors, I managed to get all new items to be used during my ordination including alm begging bowl, pillow, blanket, robe etc. May they always be happy and healthy! We also prepared gifts for the preceptors and rite masters on that day. Before one goes into the main chapel for ordination, he will have to 'leave behind' his possessions. It is done via throwing of coins for well wishers and others who came for the event. Aunt Daeng and her daughter helped me to wrap those coins in color papers to make them look more outstanding.
感谢我的每位赞助人,使我在出家期间能够用上全新用品,包括化缘钵,枕头,被单,袈裟等用品。祝愿他(她)们快乐与健康常相随。我们也为当天的仪式师和传戒师准备上供养的物品。当一个人为进入寺庙大殿正式出家时,他将把随身的财物"抛开"于身外。此项行为以抛硬币来代表,将硬币(财物)抛出给当日来参加庆典的善信和大众。红姨和她的女儿特地准备彩色纸将硬币包在彩色纸内,以使这些硬币开起来更"美观"。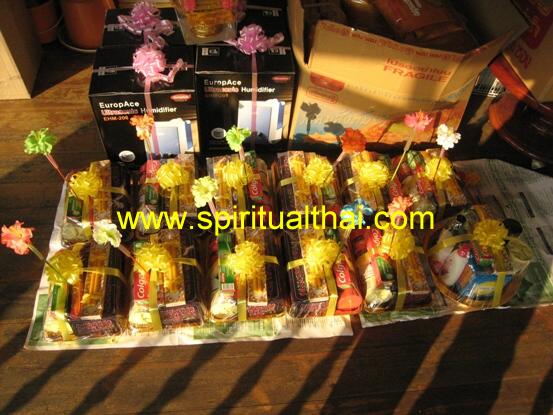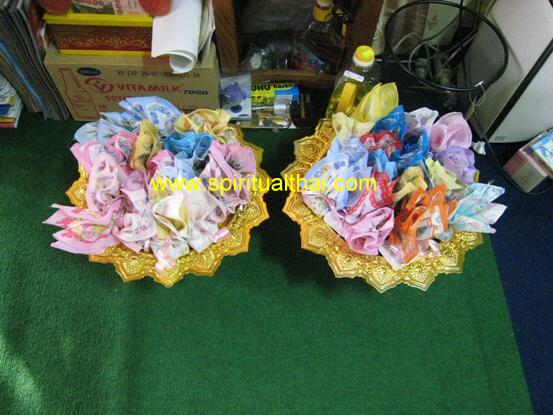 The head shaving ceremony isn't a painful one as I thought. But there goes my eyebrown too!
梯度仪式没有我想象中的那么痛楚,不过眉毛也不能保留。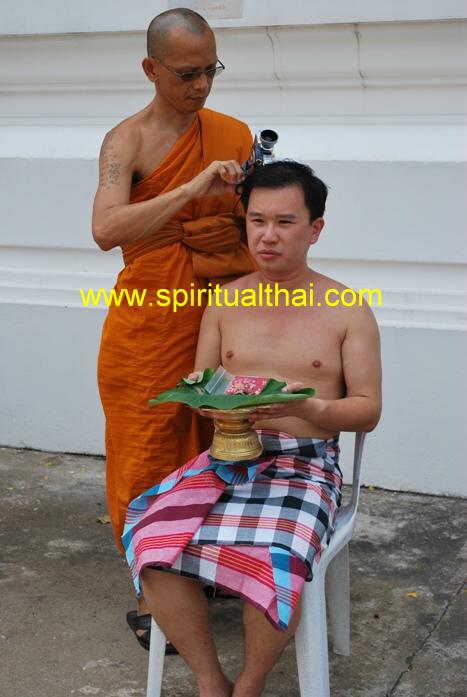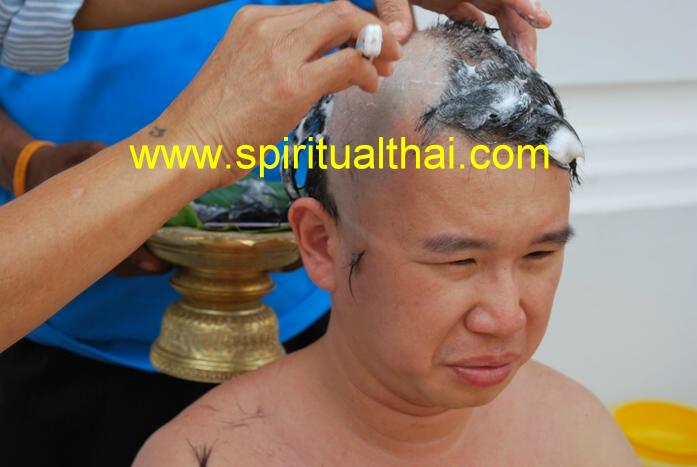 Our seniors will take turns to pour water over our head and shoulder to symbolise cleansing. As for the juniors, they will wash our feet for us. Uncle Tee from that neighbourhood also tagged in and ordained on the same day as me.
长辈们轮流将水倒在我们头上,以表达净身。至于小辈们必须为我们洗脚,以示意将过去留下的污尘洗去。邻里的迪叔也一同参与仪式,同样在这一天出家。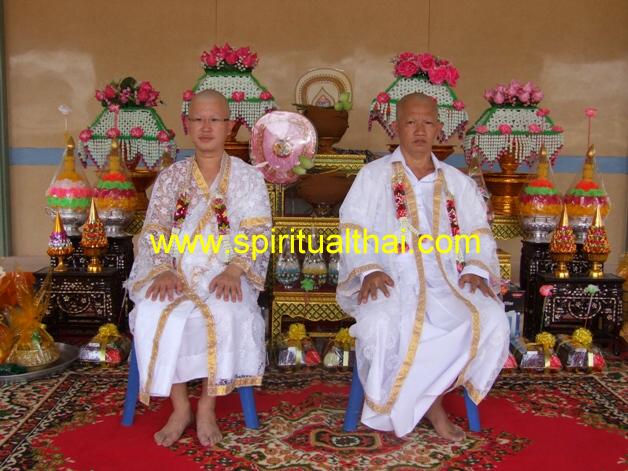 We engaged lion dance and acrobat performances to spice up the mood
特别请来了舞狮和杂技表演来助兴。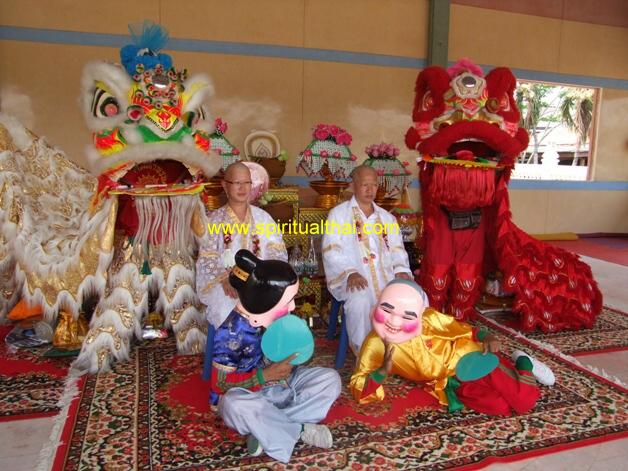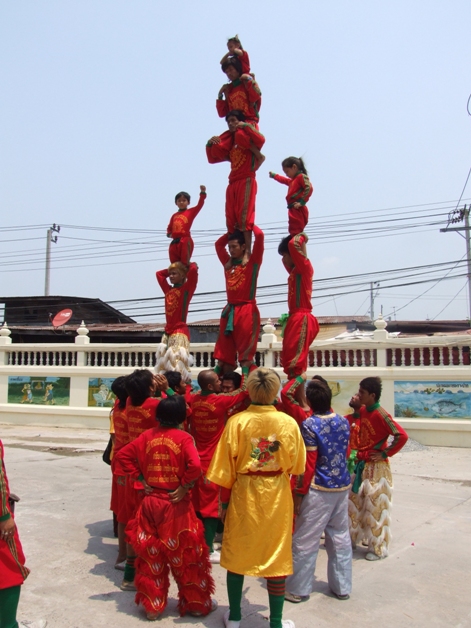 Ready for the procession around the main hall of the temple. My two Singaporean friends flew in specially to attend this event.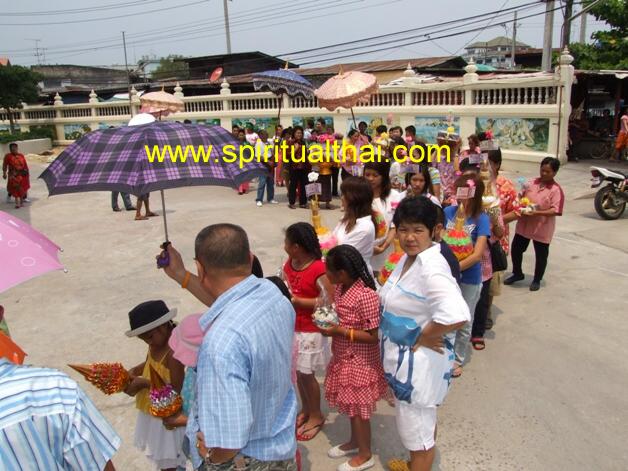 Throwing of our possessions (the prepared coins). See how everyone rushed to get them. These coins are believed to bring good luck and prosperity to the one who managed to pick them up.
准备将随身物品(之前准备的硬币)抛出了,看看大家迫不及待的想拥有这些硬币(相信捡到了会带来好运和财富)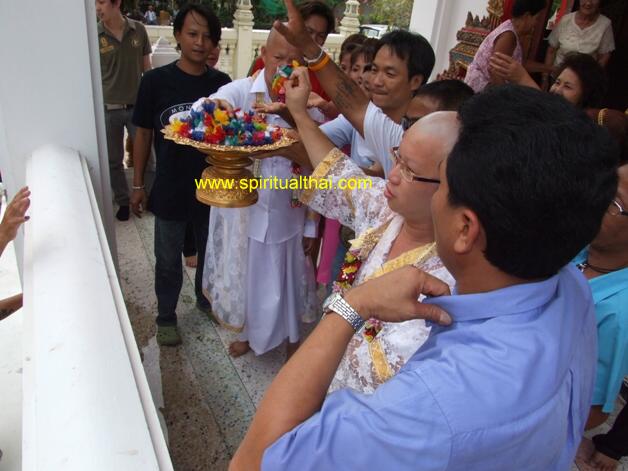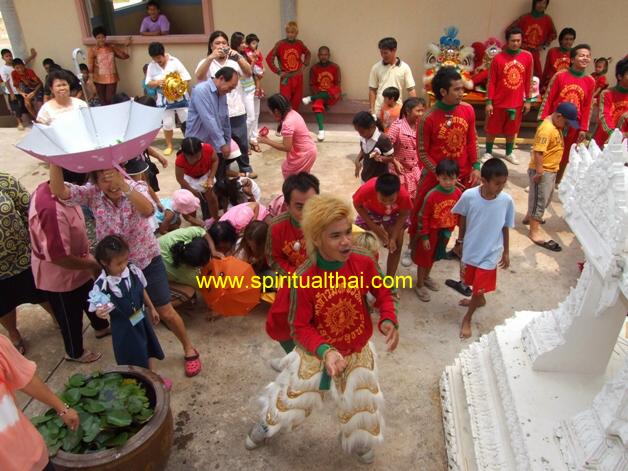 Accepting our robes. Prepare to change to monk's robe.
接受袈裟仪式过后,准备换上僧侣的袈裟。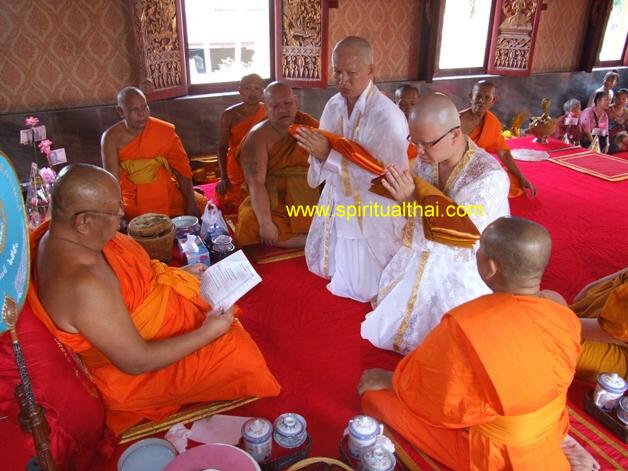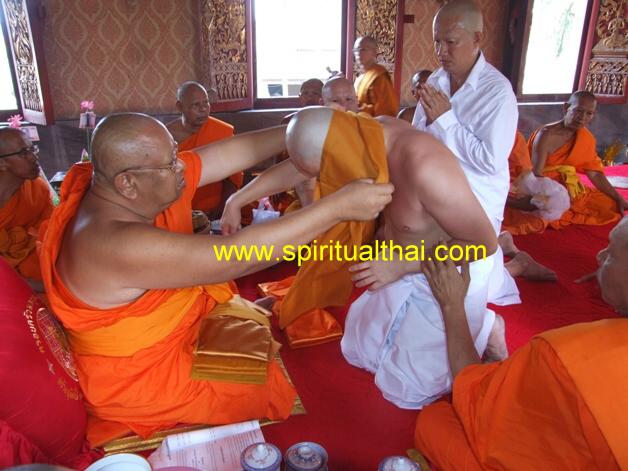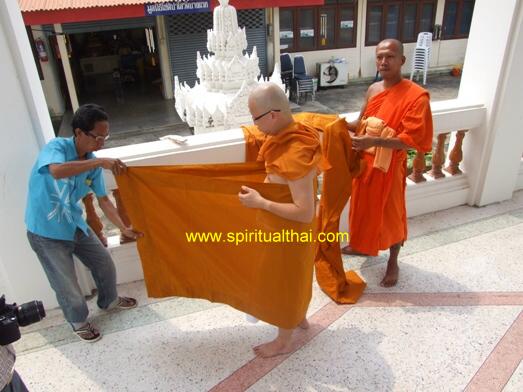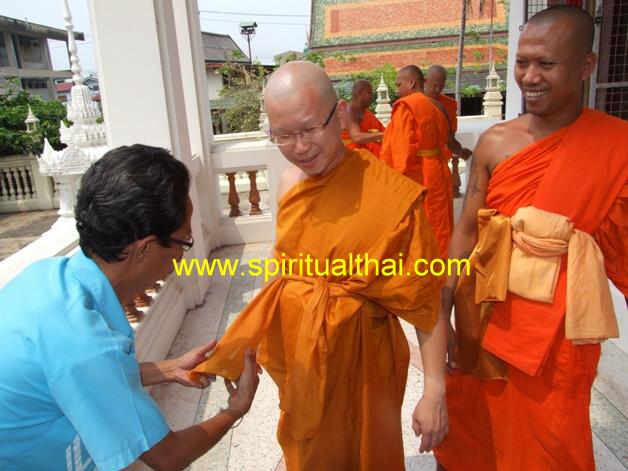 Q&A time to see if you can passed the test to be a monk. After that, accepting of precepts, alms begging bowl, ceremonial fan etc
伟大时间,看看是否能过关成为僧侣。过后便能接受戒律,化缘钵,法扇等。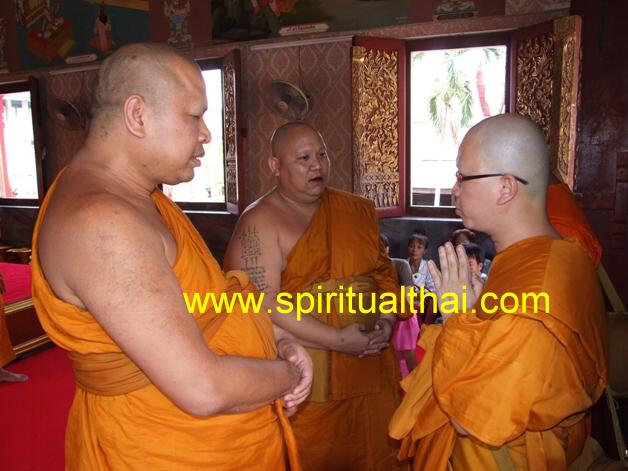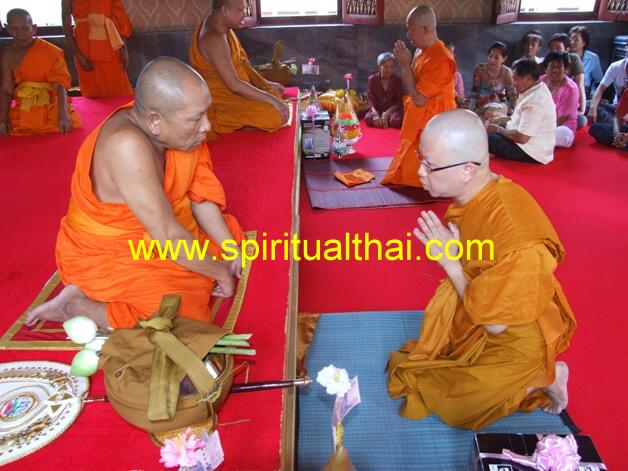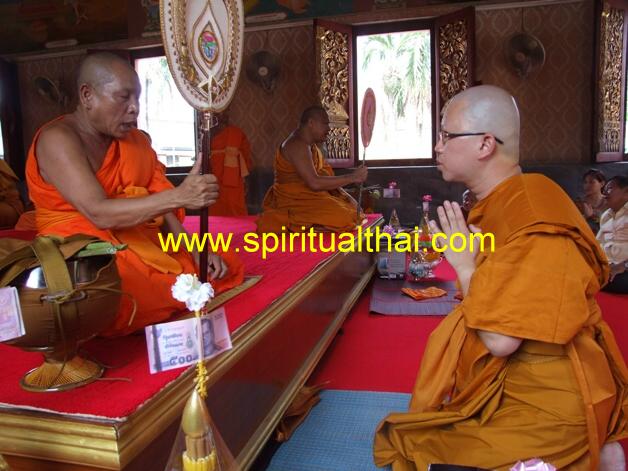 Ceremony completed. Devotees and well wishers making merits.
仪式正式完毕,善信们供养布施以累积功德。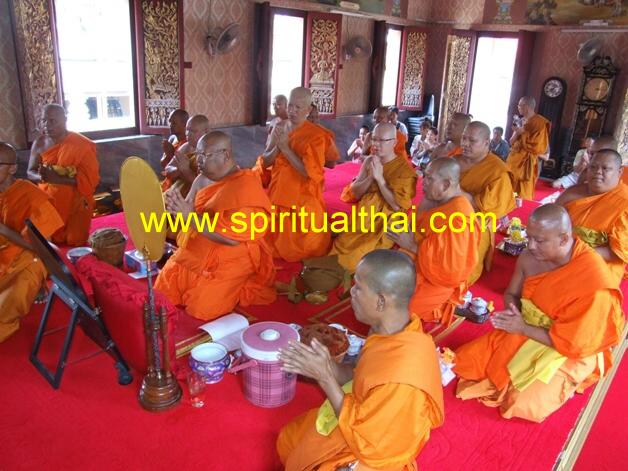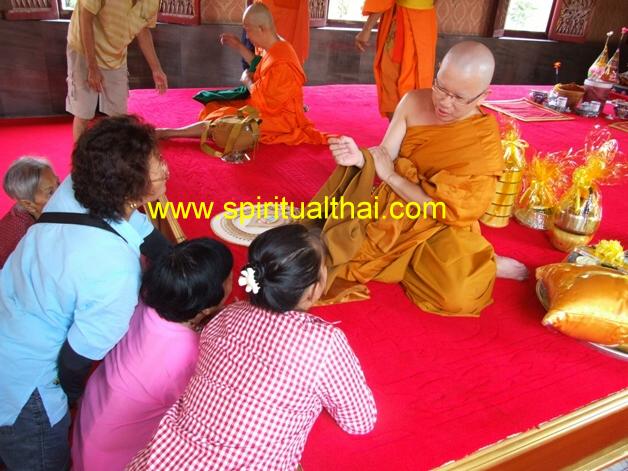 With Venerable master Luang Po Num whom arranged the event for me. A big thank you!
感谢龙波浓大师为我安排这次的出家仪式。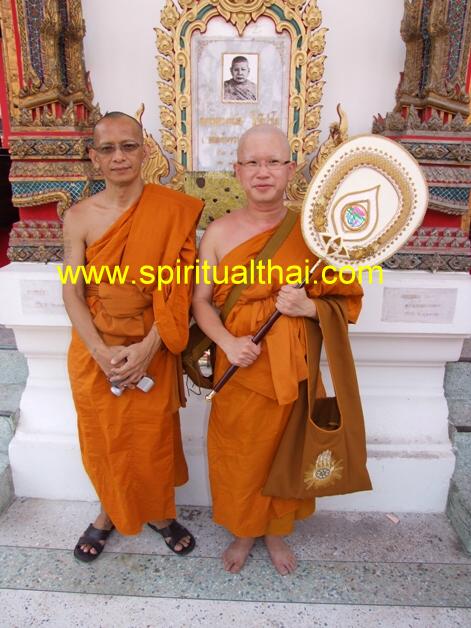 Out for alms begging on the in the morning with senior monk Luang Pi Oo
早上与龙碧欧外出化缘。